Trico Treasury Center is our commercial online banking solution for larger, more sophisticated businesses. It also serves as a portal to Tri Counties Bank's Treasury Management Services including Remote Deposit Capture, Positive Pay and Lockbox.
Below you will find some helpful information about Trico Secure Browser, as well as the links to download.
Please take a moment to review the detailed instructions in the Treasury Management Transition Guide.
Please note: Businesses not using Treasury Management Services will be transitioned to Trico Business Express, our small business online platform.
Install Trico Secure Browser
In order to access Trico Treasury Center, you must download and install Trico Secure Browser on your computer. You will have access to all your Treasury Management services, including Trico Treasury Center, through Trico Secure Browser. Trico Secure Browser is a user-friendly, secure application that protects your company when accessing account information or performing transactions and related online banking activities. You can install it on multiple computers, if needed.
64-bit Windows | 32-bit Windows | Mac

Log In
To log in to Trico Treasury Center starting on Monday, March 28, please refer to the letter that was mailed to you. If you need assistance, please call 877-895-7580.
Treasury Management Support
We're here to help you throughout the transition.
Call or Email
877-895-7580
tm@tcbk.com
---
Treasury Management Transition Guide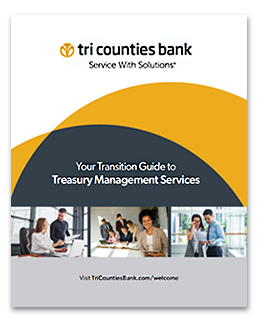 About Trico Treasury Center

Trico Treasury Center is our commercial online banking platform for sophisticated businesses. The system helps you oversee and control your transactions with confidence via Trico Secure Browser, a fully self-contained browser that helps to protect your company while accessing a suite of business online banking modules.
A user-friendly dashboard summarizing your activity and account relationships

Access to powerful reporting capabilities

Extended payment cut-off times

Access to ACH, RDC, Wire Transfer and Foreign Exchange (FX) integration

Trico Business Mobile Banking App

Keep tabs on your balances and activity and approve and release ACH and Wire payments directly from the mobile app! After you have logged into Trico Treasury Center, download the mobile app:
Visit the App Store or Google Play and Search for "Trico Business".

Log in to Trico Treasury Center from your desktop to retrieve your Activation Key, which can be found in My Settings > My Profile.

Log in to the app from your phone using your desktop credentials and your Activation Key.

Download the App


Resources
Overview Video

(opens in a new window)

Video Tutorials
Clickable Tutorial

Helpful Guides

Please see Trico Treasury Center & Trico Business Express Terms and Conditions and Treasury Management Fee Schedule.