$

24.9 Million
Quarterly Net Income
$

0.75
Quarterly Earnings Per Share
1.76

%
Pre-Tax, Pre-Provision Return on Average Assets
15.54

%
Pre-Tax, Pre-Provision Return on Average Equity
58.7

%
Efficiency Ratio
$

0.30
Quarterly Dividend Per Share
80.5

%
Loan to Deposit Ratio
174

%
Readily available liquidity sources as of Uninsured Deposits
$

1.8 Billion
in unpledged investment securities
$

2.5 Billion
in borrowing capacity
12.7

%
Tier 1 Capital Ratio
14.4

%
Bank-Level Total Risk-Based Capital
(10% considered well-capitalized by regulators)
>250,000
Deposit Accounts spread across California
38

%
Non-Interest-Bearing Deposits as % of Total Deposits
53.2

%
Consumer Deposits as % of Non-Maturity Deposits
85.4

%
Consumer Deposit Accounts
as % of Non-Maturity Deposit Accounts
98

%
% of Non-Maturity Deposit Accounts
with balances less than $250,000
68.8

%
Insured Deposits as % of Total Deposits
Asset Quality

as of 6/30/23:
1.8

%
Allowance for Credit Losses as % of Total Loans
0.15

%
Loans Past Due 30+ Days as of Total Loans
56

%
Average Loan-to-Value Ratio in CRE Loan portfolio
"Tri Counties Bank has grown and prospered through good times and bad because we never waver from our steadfast adherence to sound business practices and careful mitigation of risks, while serving the needs of our diverse customers and communities with trust, respect and integrity."
Richard P. Smith
Tri Counties Bank
President, CEO and Chairman of the Board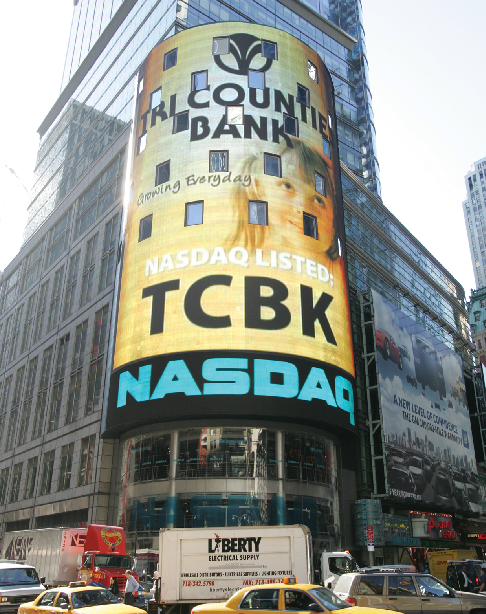 1993: TCBK listed on Nasdaq.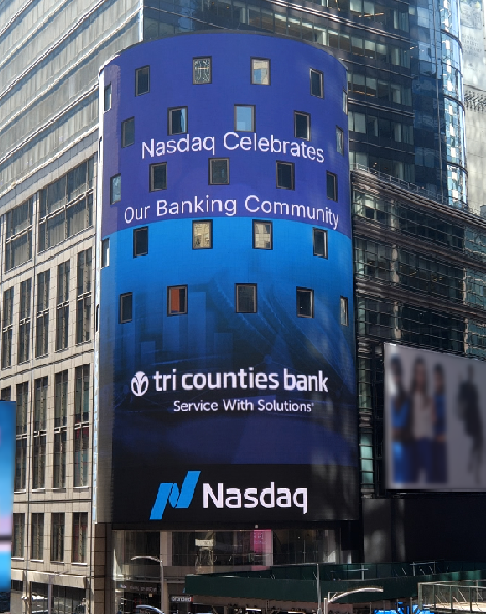 2018: Celebrating 25 years on Nasdaq. Tri Counties Bank executives rang the Nasdaq bell to start the trading day.