What is the Routing Number for Tri Counties Bank?
Can Someone Wire Funds to My Accounts at Tri Counties Bank?
Yes, someone with your account information can wire funds directly to your account. You will need to provide your account number and wire transfer routing number. The wire transfer routing number for Tri Counties Bank is: 121135045.
Mailing Address for Payments and Deposits
PO Box 909
Chico, CA 95927
You can order checks 4 ways:
Visit your local branch

Give us a call at 1-800-922-8742

If you have online banking you can submit a check order via secure email.
When ordering new checks please make sure we have your correct address on file. We will also need any changes that you would like made to the information listed on the checks from your previous order, the number in which your new checks should begin, and the number of boxes you would like to order. Check orders can take 10-14 business days from the order date to be delivered.
Current vs. Available Balance
Your current balance is the balance in your account at the end of the previous business day.
Your available balance is the amount available for immediate withdrawal or for authorizing transactions. Your available balance may be different than your personal check register balance. You can view your available balance through Online Banking and Mobile Banking or at an ATM. However, when you view your Available Balance, remember to add or subtract any transactions that have not yet been received or processed by the bank.
How Do I Endorse a Check When Using Mobile Deposit?
Checks deposited using our consumer mobile banking application should include the phrase "for mobile deposit only to Tri Counties Bank, account # [your account number]." Here's an example: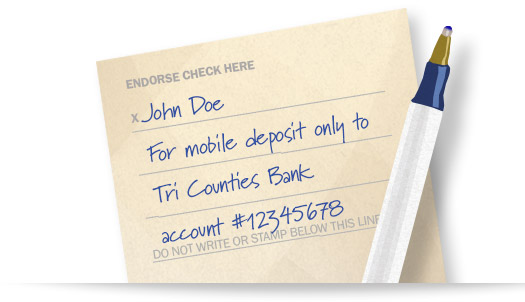 Online Internal Fund Transfers
Per transfer limit = $250,000.00

Daily transfer limit = $500,000.00
Transfers from the following accounts are not allowed:
UTTMA accounts (Uniform Transfers to Minors Act)

Owner of an account to a personal account in which they are not an owner.

Power of Attorney (POA) agent of an account to their own account or vice versa.

Custodian of an account to their own personal account or vice versa.
Online Transfer cutoff time is 9:30pm Monday - Friday. Transfers after Friday at 9:30pm will be processed on the next business day.
Loan payments can be set up in the Transfers Tab. After choosing the transfers tab click on Add New Transfer directly below. After choosing the "To Account" a new drop down list will show up with the option to choose Regular Payment or Principal Only. Next choose a frequency, date and amount to complete your loan payment. Click next in the bottom right corner. On the next screen review your transfer and click Add Transfer if all information is correct or back if you need to adjust the payment.
Viewing Checks and Statements Online
View Check Images:
Click on desired account on the homepage

Locate check in under transactions tab

Use filter option if needed to filer dates

Click on check

Details of check including images will populate
View Statements Online
Click on Services Tab

Click on eStatments

If it's your first visit to this section, you will need to agree to terms & conditions

Choose "View Statement" to view most recent statement

Choose "View History" to view previous statements
Set Up Bill Pay Reminders
In order to set up a Bill Pay reminder, please follow these steps:
Select the Bill Pay tab

Select the options button located to the right of the Payee search bar

Choose "Visit Bill Pay Site"

Select the "reminders" option on the Bill you want to set it up for

Click "Set up Reminders"

Enter in the typical due date, amount, frequency, how far in advance of the due date you want to be reminded of the bill and when you would like to be emailed about this bill.

To finish the process, click Send Reminders
Bill Pay Past Due Bill Reminders – How to pay a bill
The Past Due Bill Reminders are being generated due to your enrollment in our eBills service. eBills delivers your bill, for eligible payees, to your Tri Counties Bank Online Bill Pay when you sign up for the eBills service. Once the bill is generated and delivered to your Online Bill Pay, you will notice a red Bill Due icon to the left of the biller name on the Payment Center page. If you schedule a payment by clicking on the Bill Due icon, then you will not receive a Past Due Bill Reminder. If you simply schedule the payment through the Payment Center page, or if you utilize an alternative method to make the payment, then you will receive a Past Due Bill Reminder when the payment due date has past.
You can get rid of the Past Due Bill Reminder simply by paying the bill.
To pay the bill, you simply need to click on the red Bill Due icon located to the left of the payee name on the Payment Center page.

Click the Pay Bill option to the right of the bill thumbnail, a new window will pop up. (If there is an arrow to the right of the bill due information that means there are older bills that need to be paid. Click on the arrow to access older bills to pay.

Select a payment method, and then click the Pay

Bill button. The Past Due Bill Reminder will instantly disappear.
To set up a Bill Pay transaction, please click on the Bill Pay Tab in Online Banking.
Click Add a Company or Person to Pay.

Please type in the name of the company or person you would like to pay.

Click Search. If the company is stored in our system, an icon with your biller's name will be listed below the search window.

Please click on the name/icon provided, enter and confirm your account number, and click Add Bill. If your biller is not stored in our system continue to step 5.

Please click Enter the Info for (biller's name). Here you will need to input the biller's information including account number, address, and phone number. Once finished, click Add Bill.
This biller should now be available on the Payment Center page where you can schedule a payment.
How to Enroll in eStatements
To receive statements electronically simply log into Online Banking and enroll in eStatements by going to the services tab then selecting eStatements.
Debit Cards, Credit Cards And ATMs
When you deposit funds into the ATM, your account is immediately credited in the amount of $225.00. Your account is credited the remainder of the funds from your deposit, if over $225.00, in the next business day's nightly processing.
Preauthorized Fuel Purchases
Many times, when you use your ATM/debit card to purchase gas, the gas station preauthorizes your account for a higher amount than the typical gas purchase to ensure that you have plenty of funds available for your gas purchase. Once you have pumped your gas, they then credit your account in the amount of their original preauthorization, and then debit your account for the amount of gas that you actually pumped. The preauthorization and subsequent credit transactions will disappear from your account in our nightly processing, so you will not see them on the following business day.
Personal Debit Card Limits
All debit cards have a daily limit. For more information on your daily limit give us a call. If you plan to make a large purchase using your debit card, give us a call at 1-800-922-8742 for a temporary card limit increase.
Debit Card Use While Traveling
If you plan on using your debit card while traveling, please let us know when and where and we will place a memo. Travel memos placed on debit cards don't eliminate all chances of having a debit card purchase declined by Visa for suspected fraud.