Help fight hunger in the North State! Donate non-perishable or canned food at participating Tri Counties Bank branches or make a tax-deductible donation directly to the Salvation Army.
November 4, 2020 to December 30, 2020!
Every dollar donated counts as one pound of food toward our goal of collecting 40,000 pounds in 2020!
All donations are tax-deductible.
Top 10 Items Requested
Peanut butter
Canned meat (chicken/tuna)
Soup
Canned veggies/beans
Oatmeal
Coffee/tea
Whole grain pasta
Rice
Cooking Oil (canola/vegetable/olive oil)
Cereal
Thank you for giving!
Community Sponsors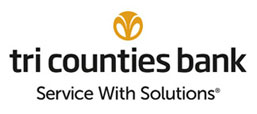 Donate today at participating Tri Counties Bank Branches: