Help fight hunger throughout California! Donate non-perishable or canned food at all Tri Counties Bank and Valley Republic Bank branches, or make a tax-deductible donation directly to the Salvation Army.
November 4 - December 24
Every dollar donated counts as one pound of food toward our goal of collecting 100,000 pounds in 2021!
All donations are tax-deductible.
Donate at a branch today or join us at our exclusive live-collection days and receive a personal thanks from Tri Counties Bank:

Bakersfield
November 30 from 3-7pm
5201 California Ave.
Fresno
December 1 from 3-7pm
7020 N Marks Ave., Suite 101
Sutter Health Park
December 6 from 3-7pm
400 Ballpark Dr.
Roseville
December 8 from 3-7pm
1020 Pleasant Grove Blvd.
Sacramento
December 9 from 3-7pm
4650 Natomas Blvd.


Redding
December 13 from 3-7pm
1250 Hilltop Blvd.

Redding
December 14 from 3-7pm
1327 South St.
Oroville
December 15 from 3-7pm
1180 Oro Dam Blvd.
Chico
December 16 from 3-7pm
2483 Notre Dame Blvd., Suite 100


Community Sponsors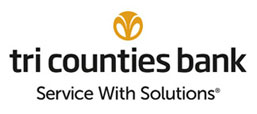 Or donate at Valley Republic Bank branches in Bakersfield


Top 10 Items Requested:
Peanut butter
Canned meat (chicken/tuna)
Soup
Canned vegetables/beans
Oatmeal
Coffee/tea
Whole grain pasta
Rice
Cooking Oil (canola/vegetable/olive)
Cereal