Discover a more efficient, less expensive way to manage your payables process with Tri Counties Bank's Integrated Payables solution.
What are the Key Benefits?

One Platform
for All Payment Needs
Streamline your payment processing — our Integrated Payables solution allows you to initiate multiple forms of payment through a single payment file.


Single Payment File
With a single instruction file that accepts all file formats for all payment types (Virtual card, ACH, Wire, check) the execution is simplified.


Cost Savings
Did you know that every time you pay a supplier by check, it can cost you over $30 per check? We can analyze your supplier payment terms and determine a cash strategy that maximizes your savings.

Better Supplier Relations
The more efficient your process, the more accurate the billing and the higher the early-pay discounts. When you have your cash flow under control, it leads to happier vendors.

Speed Of Settlement
By streamlining the delivery of electronic payments to vendors, Integrated Payables reduces the risk of late payments and associated fees.

More Efficient Reconciliation
Our team makes it happen, minimizing internal IT support requirements. And you can maintain your current ERP or accounting software.
How Does It Work?
Submission.
Produce one payment file from your accounting system and submit through our secure portal.
Verification.
Payment file is validated and translated to the desired payment method.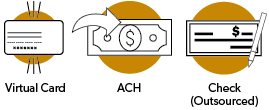 Payment.
Vendors are paid.
Electronic Payments Continue to Gain Traction
Electronic payments are more efficient and economical means of paying suppliers over traditional check processing:
1Source: The Treasurer's Guide To AR Payment Optimization, 2021. Pymnts.com.
2As reported by RPMG Research Corporation's 2018 Electronic Accounts Payable Benchmark Survey Results analyzing survey responses from over 1,000 electronic accounts payable end-users.
https://rpmgresearch.net/Products-View/product_id=89
Get Your AP Spend Analysis Today!