Make Payment (Individual Billing)
To make a payment for accounts with separate bills for each card: From the Administration menu, click Users & Cards.
Using the filters, if needed, locate the user and card.
 

Select the check box of an Accounts Payable account.
 

The User & Card Details dialog box appears on the right side of the screen.

Scroll down on the pop up "User & Card Details" screen that opens to the right. Click the "Useful Links" accordion arrow.
 
From the menu that appears, click on the Payment type of your choice, either one-time or automatic.
 

Click Add account if needed.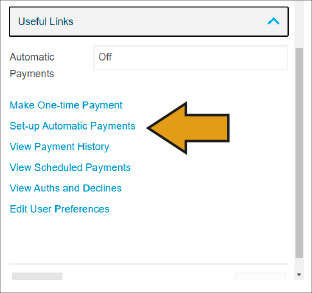 Click Edit and Add Comment to update fields as applicable.
 

A red asterisk indicates mandatory fields.
 

Click Submit.
 
Review the confirmation screen before payment is scheduled.
 
Confirm or edit as needed. You will receive a confirmation message.