Commercial Card Solutions
When it comes to managing your business expenses, today's businesses have several options. Tri Counties Bank offers two great solutions that can be easily implemented as part of your business payment strategy.
Corporate Card
Comprehensive benefits for your employee
travel & expenses.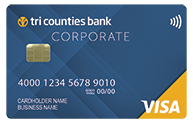 The Tri Counties Bank Visa® Corporate Credit Card offers a great way to keep track of employee travel and other business expenses, including the added ability to finance purchases over time.
When it comes to reconciliation and reimbursement, our sophisticated online card management tool makes it easier to manage and control your company's expenditures. It also offers flexibility to choose between centralized or individual billing, giving you a better grasp of where money is being spent. Tracking receipts is as easy as uploading transaction receipts online.
The Corporate Card allows you to:
Repay the balance over a period of time or immediately
Track purchase receipts more efficiently
Set individual and departmental spending limits
Manage your cards online via Trico Card Manager
Purchasing Card
Improve AP efficiency and enhance cash flow.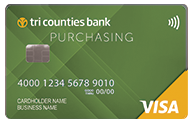 Tri Counties Bank's Visa® Purchasing Credit Card is a convenient way to manage employee and AP expenses. Eliminate the need for purchase orders, cutting checks and other labor-intensive processes.
If your business spends at least $250,000 in annual purchasing transactions, you may find using a purchasing card will be more cost effective than writing checks or using traditional business credit cards.
The Purchasing Card allows you to:
Improve controls over purchasing processes
Restrict transaction types and/or purchases from specific merchants
Access a substantial credit line
Manage your cards online via Trico Card Manager
Card Benefits & Perks
No Annual Fee
Safe, Easy and Secure
Tapping to pay helps you avoid touching surfaces at checkout.
Contactless cards use the same security as chip cards by generating a transaction-specific one-time use, thus protecting your payment information.
LOOK for the contactless symbol

TAP your contactless Visa card on the terminal

GO when your payment is processed in seconds!
Ready to Get Started?
Put the experience and knowledge of your local Tri Counties Bank Treasury Management Officer to work for you.
Call 877-895-7580 or tm@tcbk.com