How Medical Practices Can Grow Sales Through Digital Marketing and Social Media
In 2020, most businesses can't afford not to engage in social media and digital marketing to one extent or another. This even goes for medical practices. More people are online than ever before and relying on the information they can pull up on their phones, tablets, or computers to figure out where to go when they need to see a doctor, particularly when they're looking for a new one.
While the amount of online marketing avenues to account for can be daunting, it's more than worth putting some resources and effort into them to ensure new patients are not only able to find you, but also to have a reason to choose you over your competitors.
Search
Search is arguably the most important online marketing channel a medical practice needs to keep up with. Most people turn to Google when they need to quickly find a business, and the more competition you have in your area, the more you're going to need to focus on your search strategy.
The nature of search engine marketing is constantly changing as search engines like Google frequently update their algorithms and update the way they display results to users. It may be worth it to consult with a professional search engine optimization (SEO) expert whose job it is to know all the latest tactics and industry news, so they can help you gain an edge.
Social Media
Social media gives patients a way to connect with you online and a way to get the latest updates on your practice. Networks like Facebook, Instagram, and Twitter provide an unparalleled two-way relationship that can be great for your reputation and keep patients engaged.
There are numerous ways medical providers can use social media to their benefit, including communication of important information about availability, promotional use, sharing noteworthy research, and even booking appointments (see tools provided by Facebook through its Messenger service).
These social channels also make for ideal advertising platforms due to their personalization and targeting capabilities.
Review Sites
When considering your digital strategy, don't forget to pay attention to review sites. According to a 2019 study by Austin-based Software Advice1, review sites like Yelp and HealthGrades have a "growing influence" on medical providers' reputations and ability to attract new patients. Nearly half of patients surveyed say they use such review sites sometimes, and nearly another quarter say they use them often.
How Often Patient Use Reviews Sites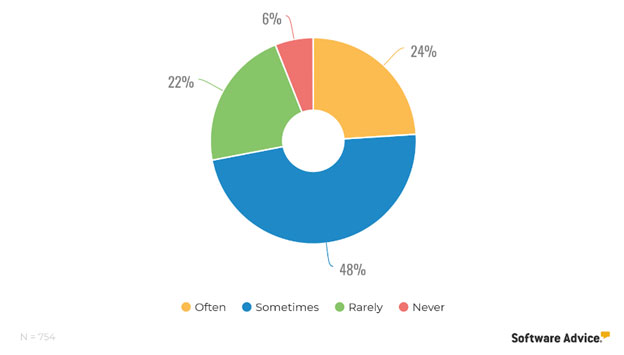 The survey found that most reviews left by patients are positive, but when negative ones are posted, they want to see the medical provider respond. It's a good idea to politely acknowledge any concerns patients have, and maintain your reputation. At the same time, you'll need to be sure you aren't violating any Health Insurance Portability and Accountability Act (HIPPA) laws in the process.
Email Marketing
As the years of the digital age go on, email marketing has consistently remained one of the top online marketing channels for businesses. Few channels have the personal reach that getting in front of a patient through their inbox has. There are plenty of different strategies to consider in this realm, as well, but an email newsletter is a particularly effective way to capture attention.
Medical appointment booking service Zocdoc says2, "Capturing email addresses and regularly emailing your list of contacts drives traffic to your website, blog, and social network pages, which in turn, drives additional appointment requests and referrals. Start by collecting subscribers from your existing client and referral base as well as from your social media followers. Then create a newsletter template with an inexpensive mailing service like MailChimp or Constant Contact. Not sure what to include? Try starting with highlights of your recent work and links back to your blog posts."
Digital marketing is a vast subject with a plethora of strategies and fine points to consider. Ultimately, it's going to take some research and/or dedicated experts to truly give you the edge that you're looking for. Effective digital marketing, however, has the potential to grow your roster of patients far better than traditional offline channels.
---
1. https://www.softwareadvice.com/resources/how-patients-use-online-reviews/
2. https://thescript.zocdoc.com/best-marketing-strategies-for-medical-practices/