Take Control of your Financial Future with Credit SenseSM.
With Credit Sense, Trico™ Personal Checking Account holders can now instantly view their credit score, set up credit alerts, and access personalized tips to help you improve, or maintain the great score you already have. It's built into Tri Counties Bank Online and Mobile Banking at no additional cost!
---

View Your Credit Score
Instantly access your credit score and full credit report directly from Tri Counties Bank Online and Mobile Banking. No additional login is required. Rest assured, your credit score will not be impacted by viewing it on Tri Counties Bank Online and Mobile Banking.
Track Your Credit Score
Review your historical credit score up to 24 months back. Your credit information is protected with the same powerful encryption and security as the rest of your Tri Counties Bank account information to keep your data safe and secure.
---
Set Up Credit Alerts
Set up credit alerts and we'll notify you if there are any changes to your credit profile so you can stay informed. It's another way we help you maintain your financial security.
Learn to Maintain or Improve Your Credit Score
Access a library of credit related articles to help you better understand – and better manage – your credit score.

Enroll in Credit Sense through Tri Counties Bank Online or Mobile Banking
---
Download more information
about Credit Sense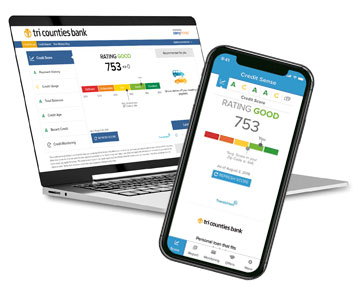 Download Our Mobile App


If you have additional questions regarding Credit Sense, visit your local branch or call 1-800-922-8742.